In addition to this blog, I regularly write articles for both online and print publications. Use this page to keep track of those publications along with the video and book projects that I am working on.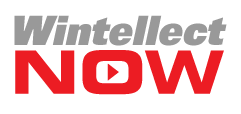 This is a set of online, on-demand video courses I published covering topics ranging from Angular 2 and TypeScript to Enterprise JavaScript and Mastering AngularJS 1.x.
More About Jeremy's WintellectNOW courses
.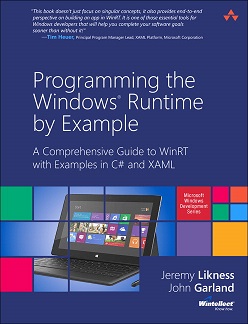 This is the most complete, solutions-focused reference for programming modern Windows Store apps with Windows Runtime. Replete with rich code examples, case studies, downloadable projects, and proven solutions, it thoroughly illuminates key areas of the Windows Runtime API, from networking to sensors and beyond. Drawing on his pioneering Windows 8/Windows RT development experience, three-time Microsoft MVP Jeremy Likness tackles specific problems with expert solutions presented in recipe style. Likness focuses on Microsoft's two most popular tools for Windows Runtime development: the C# language and the XAML technology that drives Windows 8 user interfaces.
Writing for intermediate-to-advanced Windows developers, he presents expert tips, development tricks, and specific solutions for a wide spectrum of apps: consumer, media, social networking, syndication, and more. Dedicated chapters focus on line of business apps, tapping into Likness's experience managing some of the first Windows 8 business apps ever to be released. You'll also learn how to: Write highly optimized Windows Store apps based on a detailed understanding of the underlying framework and architecture; Discovering best practices for building apps that connect with social networks, authenticate with Windows Live accounts, and cache data locally to work offline; Understanding advanced features of the Windows Runtime covered in no other book.
More About Programming the Windows Runtime by Example
.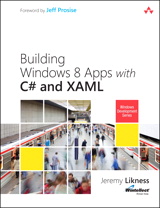 Build immersive, responsive touch apps for Windows 8 tablets, computers, and other devices! Top Microsoft MVP and Wintellect consultant Jeremy Likness shows how to leverage your existing C#, XAML, WPF, or Silverlight skills with new Visual Studio 12 tools and best practices to build incredibly powerful Windows 8/WinRT apps! Likness covers everything from line-of-business to consumer apps, showing exactly how Windows 8/WinRT builds upon and contrasts with earlier WPF/Silverlight development. Using outstanding code examples, he shows how to make the most of new platform features including integrated social networking and search, contracts, charms, and tiles. Building Windows 8 Apps with C# and XAML covers the entire application lifecycle, from planning and MVVM-based design through coding, testing, and beyond. Throughout, Likness addresses crucial development challenges that have only been discussed on MSDN, blog posts, and Twitter feeds -- and never with this depth and clarity before. His comprehensive insights and best practices will help readers join the "first wave" of Windows 8 developers -- and gain a powerful competitive advantage in Windows development for every new device and form factor. Bonus projects are available for download online. For all experienced and aspiring Microsoft developers and architects, especially those who are at least somewhat familiar with Silverlight, WPF, C#, XAML, and/or related .NET technologies.
More About Building Windows 8 Apps with C# and XAML
.
The WebSockets protocol provides full-duplex communication on top of a TCP connection that is initiated by an HTTP handshake. The fact that it runs over existing HTTP and HTTPS ports allows it to pass easily through most existing firewall configurations. The Windows Runtime provides a powerful set of networking APIs that includes components specifically designed for WebSockets communications. In this article, Jeremy Likness shows how to connect to WebSockets using both message-based and real-time connections from Windows Store apps.
Read the full article at InformIT.com.
Jeremy Likness walks you through the requirements needed to create a Windows Runtime Component in C#, how to reference and use it, and how it impacts other language selections when developing Windows Store applications.
Click for More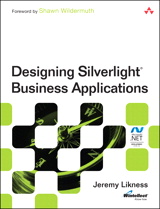 While nearly one million developers now use Silverlight, most existing guidance remains simple and introductory. Enterprise developers need repeatable best practices and patterns to help them build line-of-business Silverlight solutions more quickly and effectively. This book delivers those practices and patterns, together with state-of-the-art Silverlight 5 code that demonstrates exactly how to use them. Two-time Microsoft Silverlight MVP and long-time Wintellect consultant Jeremy Likness draws on his unsurpassed experience building large-scale commercial applications with Silverlight. Likness guides readers step-by-step through building highly-scalable and modular Silverlight solutions that take full advantage of Enterprise Silverlight, Modular Silverlight, MVVM, and the Managed Extensibility Framework (MEF). Throughout, Likness presents rich code examples in the context of real, production-quality Silverlight case study applications. His code and best practices solve a wide range of complex problems, including: Transporting data more efficiently Sharing behaviors between clients and servers more effectively and seamlessly; Creating modular extensions that load on demand; Debugging and profiling large-scale Silverlight systems more successfully. Code samples are written and tested with Silverlight 5 but many of the concepts are applicable to previous versions of Silverlight. Likness also provides a rich glossary and references for using Silverlight even more successfully.
Click for More
.
Learn how to leverage the Managed Extensibility Framework, part of the .NET 4.0 framework, to solve common problems encountered when developing enterprise applications. These include discovery for separation of concerns, metadata for filtering and sorting implementations, and extensibility for highly modular applications. You will not only learn how these concepts can be coded and applied, but also how they have been successfully used in existing applications to provide reliable, scalable solutions. Viewers will also learn how to use MEF's Silverlight-specific extensions to build modular Silverlight applications "out of the box."
Click for More
.
Written by a group of experienced MVPs, this unparalleled book delves into the intricate — and often daunting — world of .NET 4. Each author draws from a particular area of expertise to provide invaluable information on using the various .NET 4, C# 4, Silverlight 4, and Visual Studio tools in the real world. The authors break down the vast .NET 4 Framework into easily digestible portions to offer you a strong foundation on what makes .NET such a popular and successful framework for building a wide range of solutions. (I wrote the chapter about Silverlight Line of Business applications.)
Real World .NET, C#, and Silverlight: Indispensible Experiences from 15 MVPs
Windows 8 Metro is a new platform for developing applications that are tailored to the devices on which they run. These devices may include traditional desktops and laptops as well as the new tablet and slate form factors. In this article, Jeremy Likness, author of the upcoming book Building Windows 8 Metro Applications with XAML and C#, covers the top ten features developers will love about the new development environment.
Click for More
In the next installment of his series covering best practices for Silverlight in the enterprise, Microsoft Silverlight MVP Jeremy Likness covers data-centric applications. He shows you various approaches to packaging, transporting, and synchronizing data between the client and the server in line-of-business applications.
Click for More
Jeremy Likness (Microsoft MVP for Silverlight) covers the benefits of building modular Silverlight applications. Learn what patterns help facilitate highly modular code, and how to leverage tools like the Model-View-View Model pattern (MVVM) and the Managed Extensibility Framework (MEF) to build dynamic, testable, maintainable, and extendable line-of-business applications.
Click for More
One of the most popular Silverlight patterns and best practices is the Model-View-View Model pattern, or MVVM. The pattern takes advantage of the data-binding features that are part of XAML technology. Jeremy Likness, Microsoft MVP for Silverlight, walks you through the fundamental components of this pattern and shows you a simple, straightforward approach to implementing it in Silverlight line-of-business.
Click for More
Silverlight has quietly gained a major foothold in enterprise environments as the platform of choice for line-of-business applications. Jeremy Likness, Microsoft MVP for Silverlight, walks you through several enhancements in version 5, including text, performance, data-binding, and networking.
Click for More
In this article, Windows Phone 7 developers will learn how to leverage the Sterling library to persist and query data locally on the phone with minimal effort, along with a simple strategy for managing state when an application is deactivated during tombstoning.
Click for More
Building modular and extensible applications in .NET is much easier now with the inclusion of the Managed Extensibility Framework (MEF) in .NET 4.0. Jeremy Likness explains why MEF is also the perfect solution for inversion of control, showing how to use it in .NET applications.
Click for More
Silverlight is a powerful tool for writing line of business applications. With the rich features of Silverlight comes great responsibility because the bulk of the processing takes place on the client machine rather than the server. At the recent Silverlight Firestarter event, one company announced that their customers run the new application at 1/30th the original cost after the switch to Silverlight from a server-driven model. Reaping these benefits requires a new approach to building applications. Silverlight developers must keep the memory footprint and processing power of the client in mind when architecting solutions.
Click for More
Rich client applications focused on line of business and written on the Silverlight platform have become increasingly popular since the introduction of Silverlight 4 in March of 2010. Great performance is crucial for the success of many enterprise applications and this is even more important with Silverlight because it runs within the client browser and with the limitations of the security sandbox. Profiling Silverlight applications is a proactive step to ensure your applications are fine-tuned to deliver the best possible experience to the customer.
Click for More